M2 Anchor, released in 2019, has the same performance characteristics, but a more compact profile and can roll over without the need for a rollbar
Mantus Marine Boat Accessories
Boat Anchors, Boat Lights, Anchor Brackets, Scuba Gear and More
At Mantus Marine we develop products that make your time on the water safer and more enjoyable. We believe that marine products and marine boat accessories deserve to be practical, durable and affordable. We constantly look at new ways of solving existing problems with goals of increasing performance, ease of use and durability.
Mantus anchors set fast and deep with tested, reliable holding power, and they break down for easy storage. When it comes to our other marine boat accessories, you won't find higher quality anywhere else. Prepare for your big next adventure on the waves and buy boat anchors, anchor accessories, and other marine anchor supplies in our extensive online store.
Mantus Swivel
The Strongest Link in Your Chain
The strongest link – Mantus swivel is stronger than its corresponding Grade 40 chain. The integrated shackle design completely eliminates side loading making this the safest swivel on the market.
Mooring Snap Shackle
Mooring Snap Shackle is designed to easily and securely attach a boat to a mooring ball. Simply load floating mooring line or the metal ring into  the snap shackle and close the gate and lock the pin.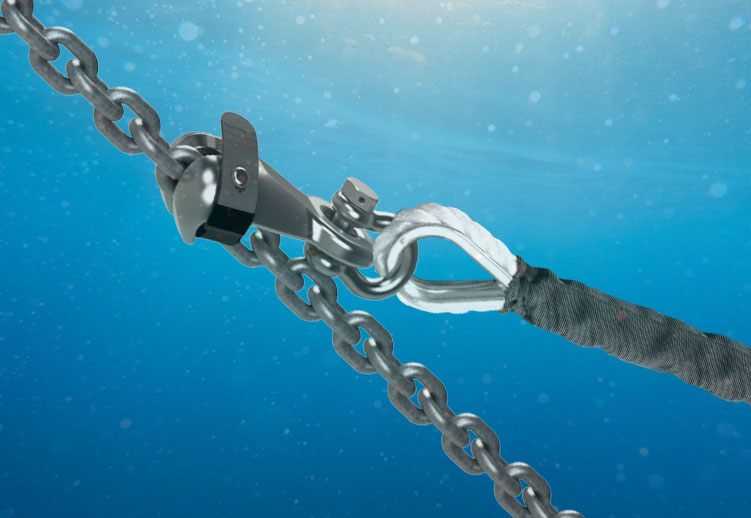 Mantus Hook
Stronger, More versatile, More Compact
The M2 Chain Hook, or chain grabber securely latches to the chain even when chain is unloaded, making it much safer than standard chain hooks that often fall off. The M2 Hook is made from 2205 Duplex, thus can withstand the harsh marine environment and is the strongest hook on the market
Mantus Bridle
Strong and Durable. Designed to absorb the shock load from wind gusts and waves, and employs chafe protection to all areas exposed to rubbing. Uses heavy duty 316L stainless steel shackles and thimbles.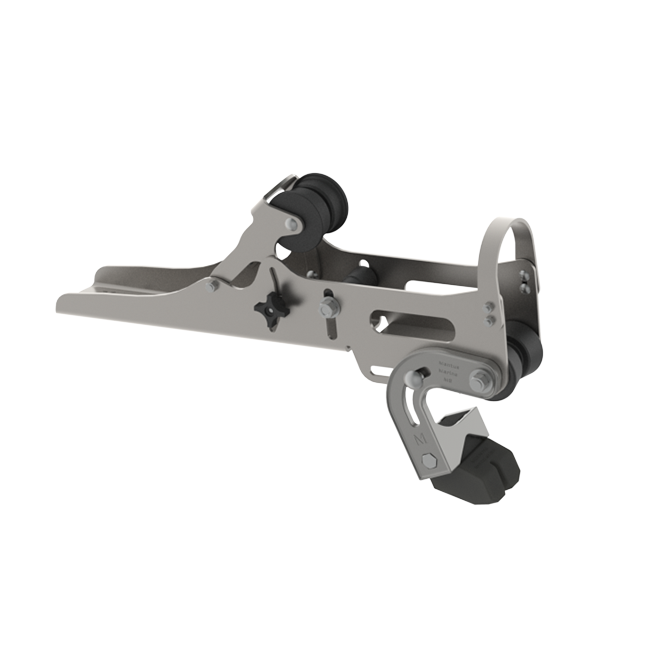 Bow Roller
Create the Perfect Fit
Mantus bow roller is an anchor bow roller designed to fit an anchor of any design and when combined with the anchor-mate, it provides an ultimate solution for anchor storage.
Anchor Guard
Create the Perfect Fit
Anchor Guard was designed to mate an existing bow roller with an anchor of any design. Simple install uses the same bolt that articulates your roller, and converts an existing bow roller into a custom bow roller for any anchor.
Mantus Scuba
Compact, Light, Portable
Mantus Scuba Pack was designed to be light, compact and very portable to allow you to scuba when and where you want.
Mantus Compressor
The most practical portable compressor
Compact, light weight and completely marinized (all components made to survive in the marine environment) This compressor is powered by a 110V electric motor that only draws 13 amps (max). This guarantees you can use it anywhere there is an outlet or power it with a small generator. Designed to be quiet, easy to transport and store. Perfect for use on the boat!
Head Lamp
Designed for Life on the Water
Mantus Head Lamp is designed for life on the water and is water resistant to 10 meter submersion, also featuring a red light for night navigation.
Snap On Light
A rechargeable and warm LED light designed to give the cockpit a cozy feel by snapping on tight to your rail.