DIGS LIKE NO OTHER  M2 Mantus Anchor is designed to penetrate dense grassy bottoms and set with unparalleled holding power. Expect the Mantus Anchor to set every time the first time!
EASY TO STORE  Whether you are a long range cruiser, racing or going out for a day sail. The Mantus breaks down for easy storage, so you can store one or two as spares without taking up much needed boat space. A single bolts is used for the construction to facilitate easy dissassembly and storage.
BUILT STRONG
Formed from high quality steel plate and high end precision casting.
ASTM certified bolts are oversized with a large margin to ensure safety.
Although the bolt used in the assembly is load bearing, only a fraction of the load is transmitted to the bolt.
Stainless Steel anchors feature a 2205 Duplex shank and 316L stainless steel fluke that are finely polished.
In the carbon steel version every part of the anchor system is hot-dipped galvanized for corrosion protection. (All shanks are HT ASTM 514 Steel and flukes are mild steel A36 equivalent).
Nose of the anchor is reinforced to guarantee a lifetime longevity.

Shank: Uses Hi Test Steel, Yield Strength 690 Mpa
Retrieval Hole: Used to rig emergency retrieval line or tandem anchor set up.
Fluke: Concave shaped used for the fluke provides the maximum resistance to movement.
Ear tabs: increase the angle of attack, and thus pressure on the nose for better sea bed penetration.
Shank/Fluke Bolted Joint: One oversized 316 Stainless Steel bolt for ease of assembly. The bolt is subject to only a small fraction of the load applied to the anchor
Nose Ballast cross section is optimized for best possible setting ability.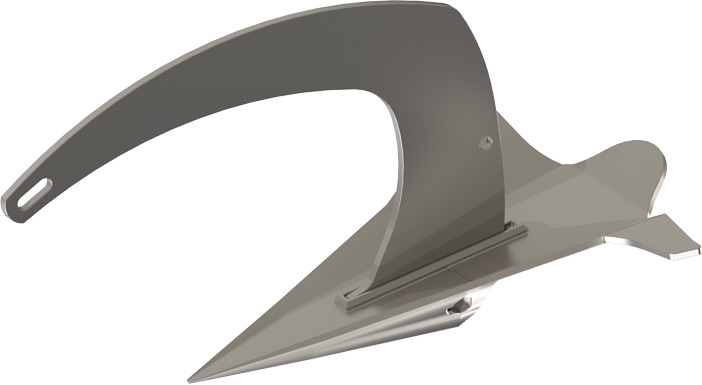 DESIGNED FOR FIT Designed to fit boats with bow sprits and bow pulpits.
LIFETIME WARRANTY   See warranty section below for details.
After the release of the Mantus M2 Model we often get the question: which one is better?  Both Anchors have an amazing setting and resetting ability and both are excellent choices for a primary anchor, but each has its own small specific advantages.  Both anchors roll over well in most bottom conditions and it is rare for a properly weighted anchor to end up upside down, nevertheless  M1 Anchor due to its rollbar is better at rolling over in a really soft silty bottom. The M2 anchor is less likely to get plugged up with muddy weeds, and without the need for the roll bar M2 is less bulky. Thus the M2 model provides a better fit for boats with bow pulpits with slotted anchor housing and bow sprits.
CALL US WITH ANY QUESTIONS:
WITHIN THE US: 1-855-262-6887
BEYOND THE US: 469-226-3468 / 469-878-4083