The M2 Chain Hook, or chain grabber securely latches to the chain even when chain is unloaded, making it much safer than standard chain hooks that often fall off.
The M2 Hook is made from 2205 Duplex, thus withstanding the harsh marine environment and is the strongest hook on the market.
The chain grabber is safe, designed to be as strong as high test chain.
Ideal for use with a snubber or a bridle.
Fits BBB, Proofcoil, Hi Test and Stainless Chain.
Available for 1/4, 5/16, 3/8, and 1/2 inch chain.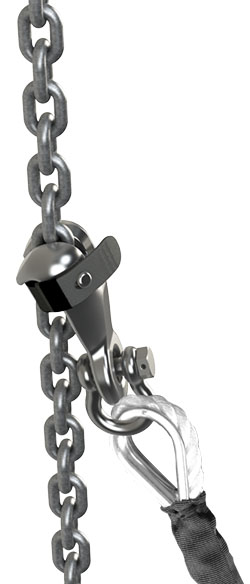 Hook Sizing Recommendations
Hook Size
WLL
UBS
Shackle (Size)
Recommended Bridle Rope
1/4 in (6-7mm)
1,686 lbs
6,744 lbs
3/8 in or 7/16 in Shackle
1/2 in
5/16 in (8mm)
3,788 lbs
15,154 lbs
7/16 in Shackle
5/8 in
3/8 in (10mm)
5,516 lbs
22,066 lbs
1/2 in Shackle
3/4 in
1/2 in (12-13mm)
9,271 lbs
37,085 lbs
5/8 in Shackle
1 in
The safety factor we use to determine the safe working load is 4, where other manufacturers use the safety factor of 3 or lower thus UBS is the best way to compare strength between products.
The material properties of the carbon steel we use when manufacturing galvanized steel hook are the very similar to 316 stainless steel, thus the WLL and UBS values are practically the same for the galvanized and stainless steel hooks.
Shackles are included with the hooks
| | | |
| --- | --- | --- |
| 2205 Duplex Stainless Steel Shackle | WLL | UBS |
| 7/16 | 3250 lbs | 13,000 lbs |
| 1/2 | 5750 lb | 23,000 lbs |
| 5/8 | 7500 lbs | 30,000 lbs |
CALL US WITH ANY QUESTIONS:
WITHIN THE US: 1-855-262-6887
BEYOND THE US: 469-226-3468 / 469-878-4083