Kayaks and Dinghies require a small, light anchor that sets reliably in a variety of bottom soil conditions, and none of the currently available small anchors offer this level of performance.
The 2.5 lbs Mantus Dinghy Anchor brings superb setting ability in all bottom types and outperforms its competitors, even of much larger size. Designed to be used as an anchor for a jet ski, kayak or a small dinghy anchor. This anchor weighs only 2.5 lbs and is recommended for boats up to 16 feet.
**The stainless steel version was just upgraded to include a roll-bar
Mantus Dinghy anchor is available in two options: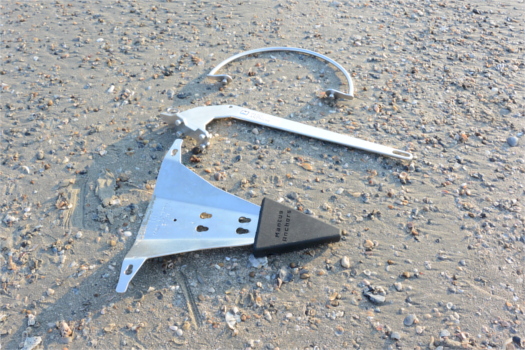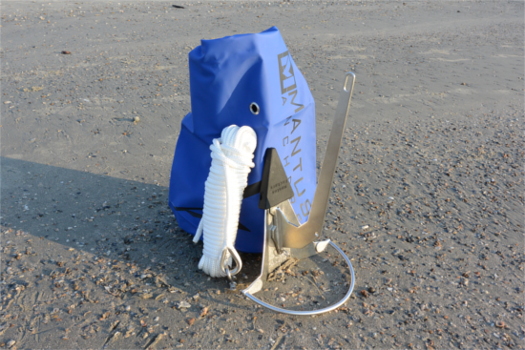 Stainless Steel Dinghy Anchor Kit
Collapsible 316 stainless steel anchor
5/16 Double braid line – 50 feet, with a stainless steel thimble
1/4 Stainless steel shackle
Nose cover
Storage bag
Stainless Steel Version is collapsible.
The shank easily slides into the fluke and needs only a single pin to lock and now features a removable roll bar. Simply the best performing dinghy anchor period.
Galvanized Dinghy Anchor Kit
One piece welded galvanized anchor
5/16 double braid line – 50 feet, with a stainless steel thimble
1/4 Galvanized shackle
Nose cover
Storage bag
One piece carbon steel welded version, does not feature a rollbar but is available at a very attractive price and still offers amazing performance for 2.5 lbs dinghy anchor.
Watch the Video below to see how to assemble and disassemble the anchor